Downtown Wausau Bakery
Lunch Dinner Coffee Tea Breakfast Sunday Brunch Bakery Fast-Food Store Brand Incubator
Four Bakeshops inside Downtown Grocery!
--- We prepare a unique selection of made-from-scratch baked goods!

* Over 100 varieties of made-from-scratch baked goods available from four bakeshops:
Downtown Grocery Bakeshop
- old-fashioned & innovative selections from breads to brittles
Be Well Bakeshop - Founder, Megan Curtes
- Gluten-Free Goodness, Vegan Selections, and Breads
a dash of delicious bakeshop - Founder, Julie Gasper
- Cookies and Sweet Treats
Blue Dot Bakeshop - Founder, Anne Rapp
- Gluten-Free Indulgence


The Four Bakeshops include:

Downtown Grocery Bakeshop



The Downtown Grocery Bakeshop creates a large variety of baked goods ranging from breads to brittles including: Breads, Brittles, Bars, Barks, Chunks, Truffles, Flatbreads, Biscuits, Cakes, Cheesecakes, Cookies, Muffins, Scones, Pies, and Pizza Crusts.

Be Well Bakeshop LLC


The Be Well Bakeshop was our inaugural Food Business to initiate Downtown Grocery's "Community Kitchen Incubator". Be Well Bakeshop is owned by Megan Curtes and prepares a variety of gluten-free & vegan bakery including: bars, breads, cookies, muffins, rolls, and scones. Be Well states:

--- "Our handcrafted, gluten free baked goods are made with simple, healthful ingredients - no preservatives, no wheat, and when possible Wisconsin grown and organic. Alternative flours, milled from ancient grains, seeds, and legumes, create the perfect balance between great taste and nourishment.
Be healthy, feel good, taste joy ... Be Well!"
--- Megan Curtes, Founder, Be Well Bakeshop

a dash of delicious bakeshop LLC



The a dash of delicious bakeshop grew from Julie's sweet tooth developed at a young age, encouraged mainly by the fantastic sweets and goodies baked by her mother. While Julie earned her Bachelors Degree in Hydrogeology and Geoscience, baking always brought comfort and provided a way to bring smiles to others. Deciding to pursue her love of all things sweet, A Dash of Delicious was born to share her sweet treats with the community.

Blue Dot Bakeshop LLC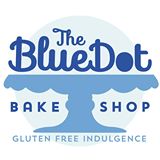 The Blue Dot Bakeshop mission is to serve the gluten free community of the Greater Wausau and Central Wisconsin areas with amazingly delicious gluten free desserts.