Wausau Corner Grocery Store
Services Gluten Free About Us Store History Green
What is Downtown Grocery.com ?
* Downtown Grocery is an "Everyday Farmers Market"™ with big ideas!
It's an "old-fashioned corner grocery store" inside a windowed storefront on Wausau's "Main Street."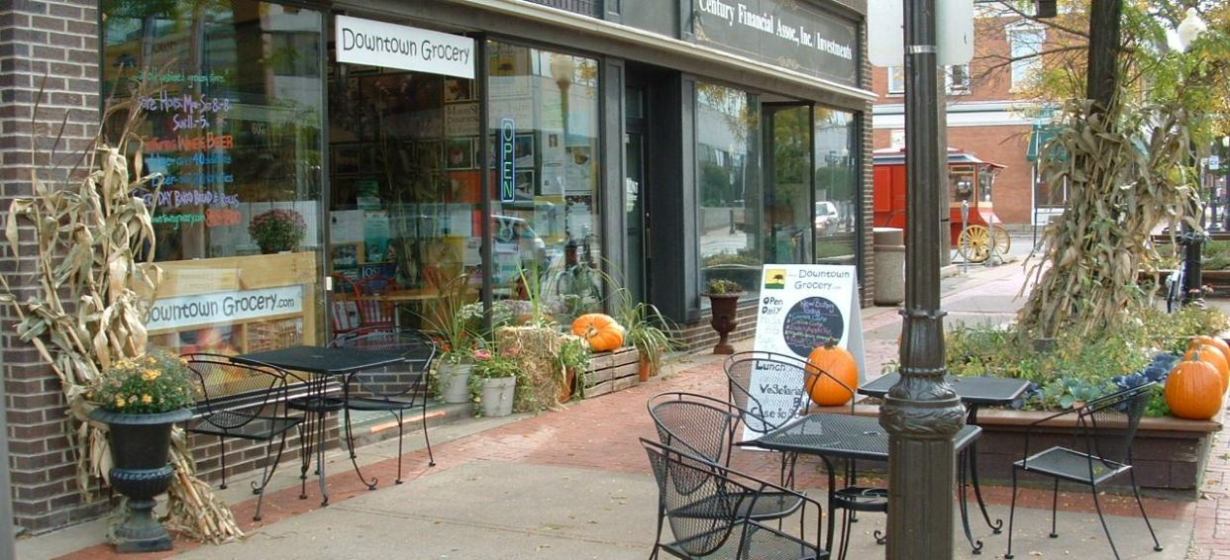 1 Unique, Local, Regional, Organic, Bulk, Raw, Allergen-friendly, World-inspired, and Everyday
- Find foods that are unique, local, regional, organic, natural, bulk, raw, allergen-friendly, world-inspired!
- Including fruits, vegetables, milk, eggs, cheese, meats, grains, frozen foods, bulk, and dry goods.
- A Local Organic Grocery Store, Vegetarian World-inspired Kitchen, and Bakeshop open seven-days-a-week!
- Offering a wide assortment of foods from local and regional farmers, growers, producers, and bakers.
- We emphasize fresh, local or organically grown/raised products to support our local Foodshed.
2 An Everyday Farmers Market
- Downtown Grocery is an Everyday Farmers Market featuring interesting fun ingredients, great wall of spices, kitchen basics, pantry favorites, and prepared foods --- from a walk-around food bar and ready-to-go selections such as hummus, dips, sandwiches, and baked goods --- that are "homemade in our kitchen!"
3 Dine-in, Carry-out, it's Healthy Food, Fast!
The Kitchen prepares world-inspired foods for dine-in or carry-out.
4 Your Grocery List and a Big Food Selection
Downtown Grocery is the source for your grocery short-list: that list of items scrawled on refrigerator chalk-boards, mentioned in voice mails, or noted in emails. Featuring a wide selection of organic produce and groceries including milk & eggs, meats & bread, frozen & dry goods, chips & salsa, and beer & wine. Plus everyday needs such as toilet paper, toothpaste and soap.
5 Allergen Friendly Foods
Downtown Grocery offers a wide-variety of food items that are made-without the major allergens, such as gluten-free or dairy-free, to help plan your daily meals.
6 An old-fashioned grocery store
Downtown Grocery is "an old-fashioned grocery" featuring local-organic products grown by local & regional farmers and producers or prepared in other local kitchens.
7 "One of the Best Retail/Artistic Blocks in Town"
The 607 Third Street storefront is ideal because we're across from Back When Cafe, Terradea Aveda Salon & Spa, Art Books and Banter, Nicoles Boutique, VOSStudios, Evolutions in Design.
8 Downtown Grocery is managed by:
...a team of creative and friendly chefs, bakers, cashiers, and organizers.
9 Customer Communication
We provide shoppers with good and valued information and we welcome shoppers to discuss questions and concerns with members of our Grocery Team or email your ideas to Kevin Korpela.
10 Local Food Economy
"We feature local and regional farmers and producers to nurture an community gathering place for sharing food ideas and growing a local food economy! Hey, by the way, farmer's rule!", says Kevin Korpela.
* A good neighbor
Connects people to place, strengthens farm to markets, and reinforces downtown!